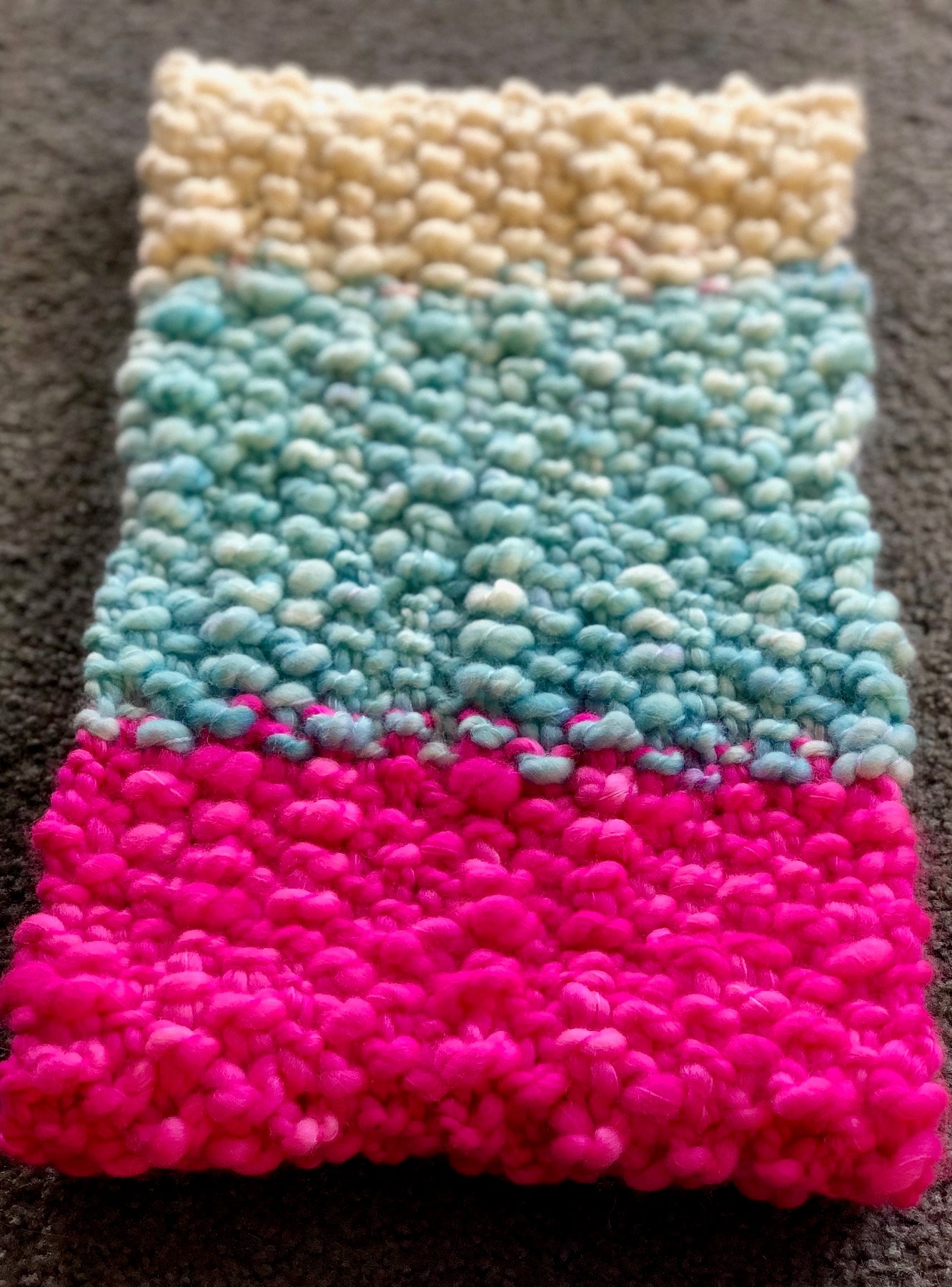 What better way to start off a blog than with a free knitting pattern!
Firstly, a word of caution  - I am NOT a pattern designer. But I dyed up this super bulky yarn to send to Wool on Wheels (more on that later), and it seemed like a good idea to have a pattern available that would give potential customers an idea of what they could make from one skein of this jumbo yarn. So I tried a few things, and this is what I came up with  - a reversible cowl that can be made from a single 88-metre skein of my new Superfreak yarn.
SUPERFREAK COWL
You will need:
1 skein of Stitchpunk Superfreak yarn
15mm needles (circulars or straight)
Cast on 18 stitches using the long tail method.
Row 1: *K1, slip one purlwise with the yarn held in front*; repeat to the end of the row.
Row 2: *P1, slip one purlwise with the yarn held in back*; repeat to the end of the row.
Repeat these 2 rows until you only have a couple of metres of yarn left.
Cast off on the next row - either knitwise or purlwise, as appropriate.
To join the ends of the cowl, use the remaining yarn tail. Lay the cowl out so that the 2 edges are touching but not overlapping. Use your fingers to poke the yarn through an edge stitch, working from the outside to the inside of the cowl, and gently pull it firm. Then take the yarn back to a stitch on the other side that is pretty much opposite, and repeat, always working from the outside to the inside. Pull the yarn tight as you go, so that the 2 edges nestle next to each other, but not so tight that the fabric starts to pucker!
If you keep your "stitches" reasonably straight and don't overtighten, you should get a join that's close to invisible from either side.
To finish, I suggest making a single knot, and use your fingers again to weave in the remaining end.
Congratulations on making your reversible linen stitch cowl! This fabric generally doesn't need blocking (though you can if you prefer) - but I find that gently pulling it in both directions helps to settle the stitches.
NOTE: some skeins of Super Freak will contain a single knot. If you happen to get one of these I recommend cutting out the knot and spit splicing the ends together. With a thick and thin yarn like this the splice will not be noticeable :)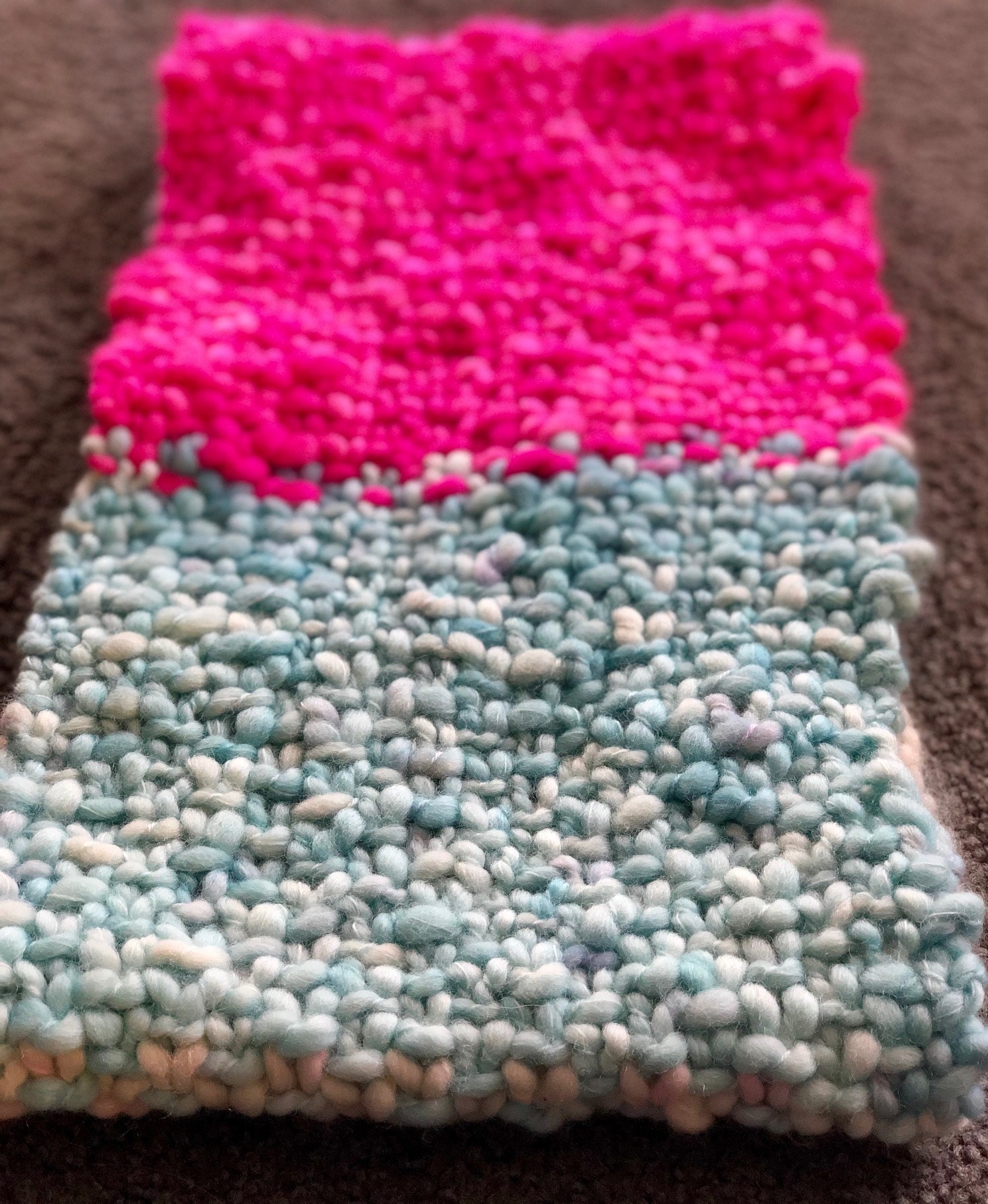 So, you may be asking, where do I buy this yarn?
it will be available on my website very soon! But even more exciting, I have sent some to be part of the travelling yarn shop that is Wool on Wheels. If you've not heard of it before you can read more about it, and see the itinerary, here: 
Or on the Facebook page
Also available at the yarn circus :D will be some of my Hair Metal sparkle 4-ply and new colours in my Punk It Up sock yarn, which isn't on the website yet, but I hope to make it available online very soon. You can sign up to my mailing list if you'd like to be alerted when it becomes available.
Whew, that's probably enough for a first blog post I reckon. DO go along to the Wool on Wheels pop-up shop if it happens to be coming to a town near you - I have been to one and it a fabulous sensory overload of amazing colours and squishiness. In this little country of ours many of us have no choice but to do our yarn shopping online most of the time - but believe me, nothing beats seeing it all in person :)